Our stainless steel premium line of bird spikes 
As they are entirely made of stainless steel, Oisipic Premium bird spikes do not rust. They are weather-proof and stand up to the toughest rain, wind, extreme temperatures, UV rays and the like. They are very rugged and strong, and yet repel pigeons, sparrows or seagulls without injuring them.

A patented system suitable for all types of surfaces and birds
The Premium line of OISPIC 100% stainless steel bird prevention spikes is available in several widths, ranging from 80 to 150 mm, depending on the surface to be protected. The Premium 80 model is specially designed for tight spaces such as cornices. The Premium 120 model can be used to protect surfaces from 120 to 170 mm wide and the Premium 150 model covers widths ranging from 150 to 200 mm. To repel large birds such as seagulls, choose a wider model, such as the Premium 150+, which is just as durable but with longer and thicker spikes.
Technical specifications of Premium OISIPIC spikes
Spikes made of AISI 302 stainless steel spring wire
Base made of type 301 stainless steel
Length of strips: 50 cm
Length of spikes: 11 to 13 cm
Diameter of spikes: 1.3 mm to 1.5 mm
Number of spikes: 72 spikes per metre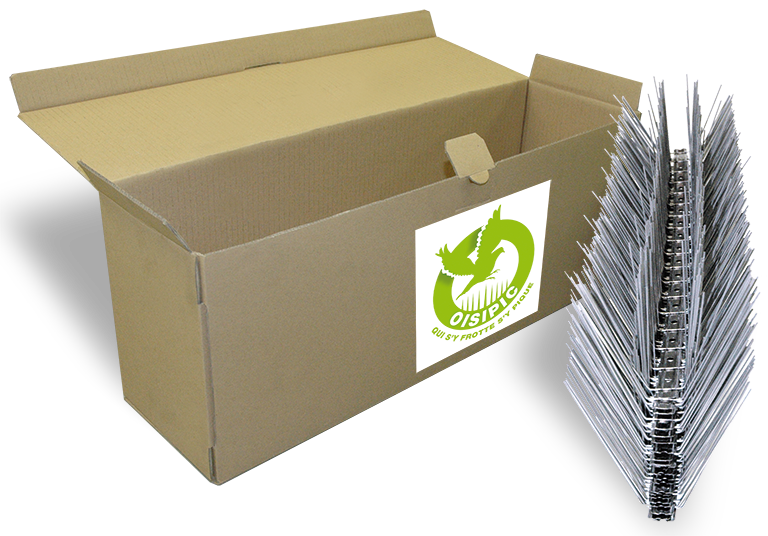 Our stainless steel bird prevention spikes are made in France, measure 50 cm in length and can be separated by hand. They can easily be divided into sections that will fit any surface regardless of width. The modules are flexible and therefore suited to all surfaces: illuminated signs, porches, round windows, historical monuments, etc. They can also be glued to any surface using silicone or polyurethane bonds. Furthermore, Oisipic bird prevention spikes are stackable and packed in an ergonomic box for optimal storage. Caution! Handle with gloves.